'Keji' by Keji Hamilton & the Exousia Band is the featured album today on AmieStreet: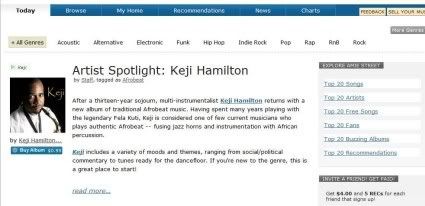 "After a thirteen-year sojourn, multi-instrumentalist Keji Hamilton returns with a new album of traditional Afrobeat music. Having spent many years playing with the legendary Fela Kuti, Keji is considered one of few current musicians who plays authentic Afrobeat — fusing jazz horns and instrumentation with African percussion.
Keji includes a variety of moods and themes, ranging from social/political commentary to tunes ready for the dancefloor. If you're new to the genre, this is a great place to start!"
The Keji album is also available from iTunes, eMusic and Amazon.