Press Release
'Keji', by Keji Hamilton & The Exousia Band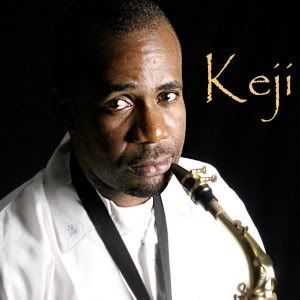 WM Recordings, together with Exousia Entertainment, is pleased to announce the upcoming online release of the self-titled album 'Keji', by Keji Hamilton & The Exousia Band.
Remember Keji Hamilton, the talented multi-instrumentalist who sharpened his musical teeth with the late Fela Anikulapo Kuti, as a guitarist and later as a pianist?
After a thirteen-year sojourn from the public musical eye, Keji Hamilton has re-emerged, imposingly, with his new album.
The 'Keji' album was recorded, after several months of rehearsals, at an analog Studio in Lagos, Nigeria.
'Keji' which contains 46 minutes of traditional Afrobeat music (a fusion of Jazz horns/keyboards and African rhythmic percussions) is an effective combination of slow tempo groove and fast-paced upbeat tracks. The songs capture a variety of moods and themes; they range from the political through social commentary to the inspirational. The pulsating rhythm of 'Designers' is guaranteed to drive you to the dance floor, while the heavy groove of 'Innocent Blood' would see you nodding and tapping your feet impulsively.
Keji Hamilton, who is a leading exponent of the Afrobeat genre of music, with an acclaimed world-class compositional prowess, has two and a half decades of experience as a musician. He is also a composer/arranger of the Jazz and Reggae genres of music.
One fan said, "Keji's street-beats style is infectious and uncontrollable. His experiences are an open wound from which pours real love and deep soul-wrenching music."
Cobhams Asuquo, a multiple award winning songwriter and producer also comments on Keji's music:
"I have always seen Afrobeat as a genre of music that needs to be explored and exploited. It so happens that a lot of people who have delved into this genre of music have not, to the best of its capacity, taken the full and total advantage of it. I think Keji Hamilton has been able to capture Afrobeat with the same exactitude, even as Fela did
For all lovers of Afrobeat music worldwide, Keji Hamilton's virtuoso performance at 'The Return of Keji' concert and the release of his new album 'Keji', have left no one in doubt that 'Roots' Afrobeat as established by Fela Anikulapo Kuti is back… and back with a big bang!
'Keji' is released online by WM Recordings.
The album will be available from all major download stores in january 2008.
For more information, contact:
charles@exousiaentertainment.com (+ 44 788.658.8786)
or info@wmrecordings.com
Also see:
www.exousiaentertainment.com
www.myspace.com/kejihamilton