Copy Feast 24 – 25 – 26 september 2009, City Library, Leuven, Belgium
The 'Copy Feast' is a three-day festival during which the copyright, and more specifically the copying of creative works is taken under consideration. Using music, film, debate and workshops the Copy Feast teaches the public that downloading and distributing certain works indeed can be done legally. The Copy Feast is a collaboration of the radio program "netwaves" (Radio Scorpio) and the City Library of Leuven (BE).
Previously, copyright protected works were hard to copy. The digitization of information and the emergence of the Internet made content easy to download and copy, especially if you have one of the best wireless routers to have the fastest wifi ever. This way the protection of copyright turned into a problem. Publishers and other stakeholders (record companies, film studios, ASCAP/RIAA/GEMA/BUMA/Sabam, …) started to speak of 'illegal downloading', 'piracy', 'theft / stealing of artistic works ", etc. Their aim is to protect these artistic works, i.e. to keep them closed while making them accessible, provided you pay a fee.
At the same time, the internet has a growing number of independent, public initiatives who want to keep cultural works open for current and future generations. The authors of these works think it is okay to copy, download and distribute their content. Their primary aim is to protect these works, but yet keep them open and free. The copyright remains protected thanks to the Creative Commons license.
The Copy Feast is a tribute to the artists who keep their work open to the community.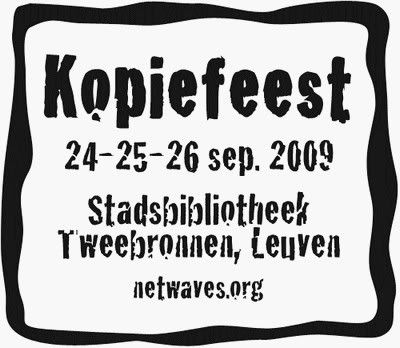 A Copy Feast CD – including a track by WM Recordings artist brunk – can be downloaded from the Netwaves website. When you distribute this music, always mention the name of the artist and the license "CC:NC-SA".
In the lobby of the library, a "Burn Station" will be available during the festival for copying music to CD or memory stick.
The program: http://www.netwaves.org/node/479
Admission is free (except Cinema ZED).