Posts Tagged 'Vernon LeNoir'
WM Recordings artist Vernon LeNoir is featured on the second netBloc compilation. blocSonic is proud to bring you another compilation featuring ten exceptional tracks from the world netlabel music. netBloc Volume 2 features rock, calypso, trip-hop, hip-hop, reggae and electronic. Check it out here.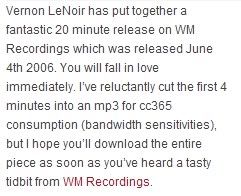 A review of the latest Vernon LeNoir album, from Indieish: And while we're here: check out our latest release, a full length album by Kinetic Jane. Polish beats with a twist.
Two new releases online for your free and legal listening pleasure: Sminky - Before life Vernon LeNoir - Balkan Spezialitaeten